FooEvents adds powerful event and ticketing functionality to WooCommerce with no commission or ticket fees. Sell unlimited tickets and manage free registration for physical events, virtual events or both! You don't need any tech skills and can be up and running within minutes. Join over 10,000 happy FooEvents customers.
EVENTS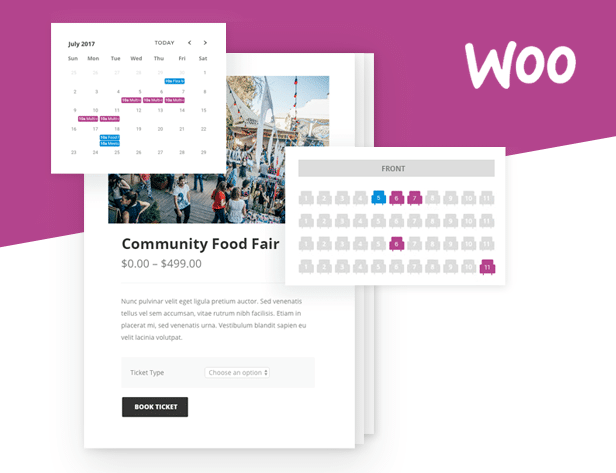 Manage events and sell tickets on your own terms of FooEvents
FooEvents removes the middle man and makes it possible to sell an unlimited number of custom branded tickets from your own WordPress website without having to pay any ticket fees or commission. FooEvents ensures that you have full control over the ticket sales process and customer data, making it the safest and most flexible event and ticketing solution available.
Built for WooCommerce
FooEvents is designed to work natively with WooCommerce. This means that you can take advantage of the security and power of the world's most popular eCommerce platform.
Unlimited Tickets and Events
All FooEvents licenses let you create an unlimited number of events and tickets at no additional cost! Licenses are only limited by the number of websites on which FooEvents can be installed.
Sell Digital and Physical Products
You can sell tickets, physical goods and digital products all from the same website using the powerful combination of FooEvents and WooCommerce.
WordPress Theme Friendly
FooEvents works seamlessly with the majority WooCommerce compatible themes, meaning you have countless options to choose from when jazzing up your store and marketing your events to customers.
Detailed Event Information
Each event page has a unique URL that includes the event description, summary, image gallery, Google Map, event information, variation drop-downs and related products.
Customizable Wording
Override the use of the FooEvents default terminology with your own wording that is more appropriate for your event. For example you could change 'Attendees' to 'Participants', 'Students' or 'Customers'.
Free or Paid Events
Sell tickets or register attendees for free events. Attendees will be issued tickets and registered in your WooCommerce database which is great for building a CRM database and managing event access.
No External Dependencies
FooEvents is designed to run on your own WooCommerce website and is not dependent on any third-party plugins or external services. Simply install the FooEvents plugin, configure and start selling.
WP Multisite Support
FooEvents supports WordPress Multisite which gives your clients the ability to create and manage their own events and sell tickets in a WordPress Multisite "network".
WPML Compatible
FooEvents is compatible with the popular WordPress Multilingual (WPML) plugin. WPML lets you translate website content into different languages.
Translation Ready
Use WordPress localization files (.PO/.MO) to change all FooEvents text outputs into your website's default language.
VIRTUAL EVENTS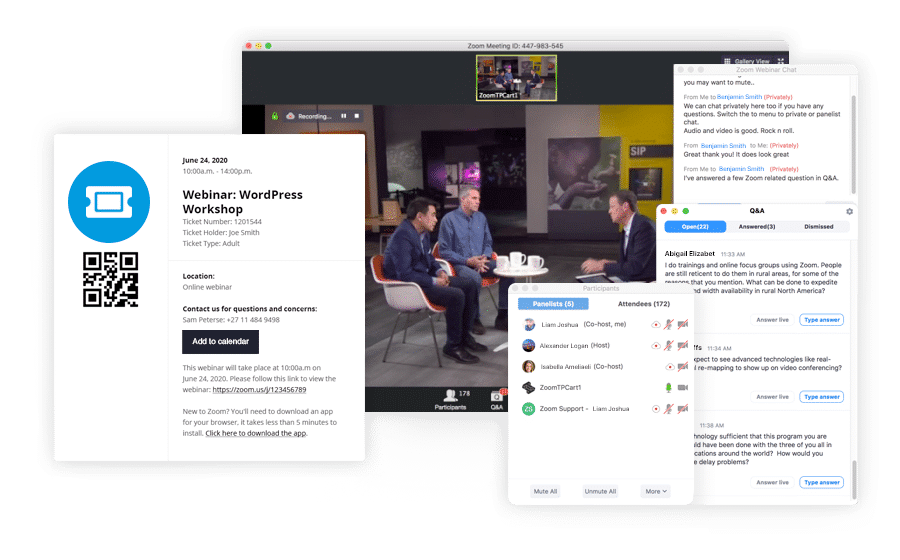 Seamless integration with Zoom FooEvents
Sell tickets to virtual events such as conferences, meetings and webinars using FooEvents and Zoom.
Sell tickets to virtual conferences, meetings and webinars
Seamless integration with Zoom means you can take advantage of all the monetization benefits and functionality provided by FooEvents and WooCommerce, while world class video streaming of your live virtual event is taken care of by Zoom.
Automatic Attendee Registration
Sell access to virtual events directly from your WordPress website. FooEvents connects securely to your Zoom account and can automatically pre-register attendees for once-off or recurring Zoom meetings and webinars when they purchase tickets on your website.
Own the customer relationship and your data
By selling tickets to your virtual event directly from your own website, you maintain complete control over your sales funnel and can build your customer database which will allow you to optimize conversions and adapt your event and marketing strategies as needed.
Sell tickets to physical and virtual events simultaneously
With FooEvents, you can sell tickets to physical events, virtual events or both! It's never been easier to sell tickets and manage free registrations for all your events across multiple channels and platforms.
Video conferencing technology trusted by millions
Zoom is the leader in modern enterprise video communications, with an easy, reliable cloud platform for video and audio conferencing, chat and webinars. No matter where you are in the world, Zoom has you covered.
APPS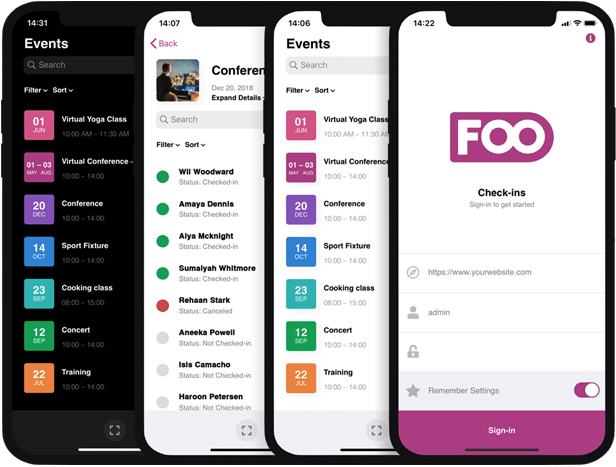 Manage access with our FREE mobile Check-ins apps
There's no need to carry around a clumsy clipboard or kill trees when you can elegantly manage check-ins with our free, easy to use iOS and Android apps. The FooEvents Check-ins app gives you the tools to manage access to your event like a pro and it even works when the internet goes down!
Barcode and QR Code Support
All tickets include a unique 1D barcode or QR code which can be scanned with a handheld barcode scanner or with the free FooEvents Check-ins app.
Customizable Branding
Make the FooEvents Check-ins app your own by changing the logo and color scheme directly from the plugin settings screen to match your website.
Attendee Search
Easily find attendees that are registered for your event and view their information by searching for them by name or ticket ID.
Auto Check-ins
Speed up check-ins by enabling the auto check-ins option which will automatically check-in an attendee and return to the scanning screen once their ticket has been successfully scanned.
Offline Mode
Don't stress if the power goes out or the internet connection drops as you can still do check-ins with the built-in offline mode until your connection is reestablished and the data automatically syncs.
Bulk Status Updates
Change the check-in status of multiple attendees using the built-in Bulk Update option. Simply select the tickets and mark them as checked-in, checked-out or canceled.
View Attendee Information
View information for attendees as well as any custom attendee fields that were captured when the ticket was purchased.
Attendee Filter
Filter the attendee list based on the current event check-in status. These include checked-in, checked-out, canceled and unpaid.
Bluetooth Scanner Integration
Scan tickets using your mobile device's built-in camera or pair your device to any handheld Bluetooth barcode scanner.